The full-size pickup is an American classic. Not everyone has the room - or the need - for a full-size truck though, which is where the growing category of the midsize pickup comes in. It probably shouldn't come as a surprise that some of the best compact trucks are being made by the companies that turn out the best compact cars.
Nissan likes to tout the Frontier as "America's Most Affordable Pickup." And that's true, to an extent. A base Frontier is rather inexpensive, but you don't get much for your money. Over at Toyota, you'll pay a bit more for a 2019 Toyota Tacoma. But is it worth it?
Which truck has a more powerful engine, the 2019 Toyota Tacoma or Nissan Frontier?
It's a truck. You're probably buying it to do some heavy  work, but does that mean it shouldn't look nice too? At the base level, the 2019 Toyota Tacoma features a 2.7-liter engine, compared to a 2.5-liter engine in the 2019 Nissan Frontier. The Tacoma's unit generates 159 horsepower and 180 lb-ft of torque, overpowering the Nissan, which sits at 152 horsepower and 171 lb-ft of torque. It's not a big difference, but enough to notice the Tacoma being more eager to merge into traffic or get moving off the line from Indiana stop lights. At 1,620 pounds, the four-cylinder Tacoma provides better payload than not just the four-cylinder Nissan, but better than any Frontier trim or powertrain combination.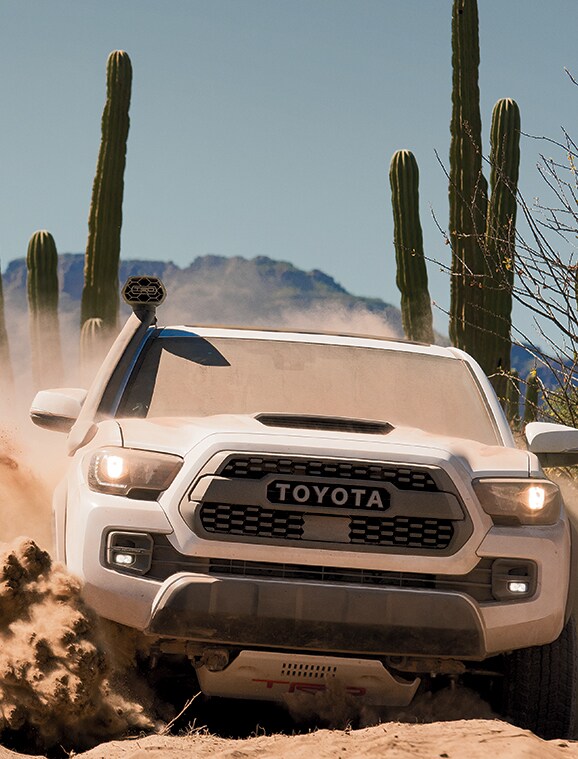 When you need capabilities closer to those of a full-size, you opt for the larger optional engines. In the Frontier this means a 4.0-liter powerplant, with 261 horsepower and the capability of towing up to 6,710 pounds. Despite being a smaller engine, the 3.5-liter engine in the 2019 Toyota Tacoma is more powerful. Generating 278 horsepower, it can tow up to 6,800 pounds, proving its' worth as a dependable driving force.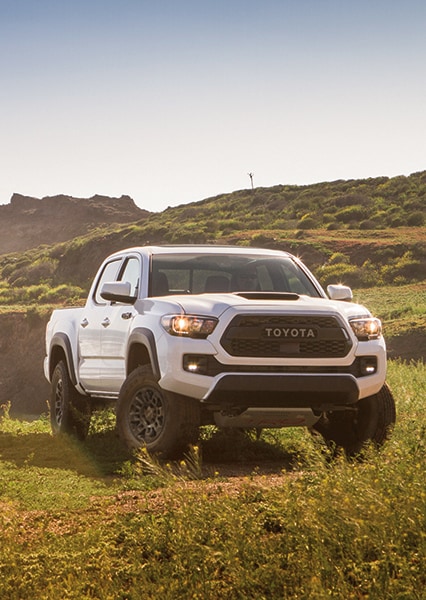 Does the 2019 Tacoma or the 2019 Frontier get better gas mileage?
One of the advantages of a midsize pickup truck is they aren't quite as thirsty as their full-sized companions. So whether you're hauling mulch back from Home Depot or hauling hay bales to Portage, you won't spend a fortune at the pumps.
That being said, the 2019 Nissan Frontier is still a gas guzzler. Much of this is due to the Frontier still relying on outdated five-speed transmissions - you get the choice between a 5- or 6-speed manual, and a five-speed automatic. With the base engine, the best you can get is 19 MPG city and 23 MPG with a manual transmission. Opting for an automatic transmission drops it to 17 MPG city and 22 MPG highway. In the 2019 Toyota Tacoma, the base engine is tied to a six-speed automatic, but that's all you need, as it outdoes both Frontier transmissions with 20 MPG city and 23 MPG highway.
Stepping up to the bigger engines, the gap widens. With the 3.5-liter engine and two-wheel drive, the 2019 Toyota Tacoma gets 21 MPG combined, while the Frontier with the 4.0-liter engine and two-wheel drive tops out at 19 MPG combined. When you need four-wheel drive to conquer the snowy winters of DuBois, the Tacoma will still get you 20 MPG combined - so it's still going to be more fuel-efficient to have a four-wheel drive Tacoma than a two-wheel drive Frontier. With four-wheel drive power, the Frontier drops to 18 MPG combined.
Which truck as better safety features, the 2019 Tacoma or the 2019 Frontier?
Especially when you're hauling a load or towing a trailer, you need to be confident that your truck will help to detect trouble coming your way, and respond to it. And, if all else fails, protect you and your passengers in the case of an accident.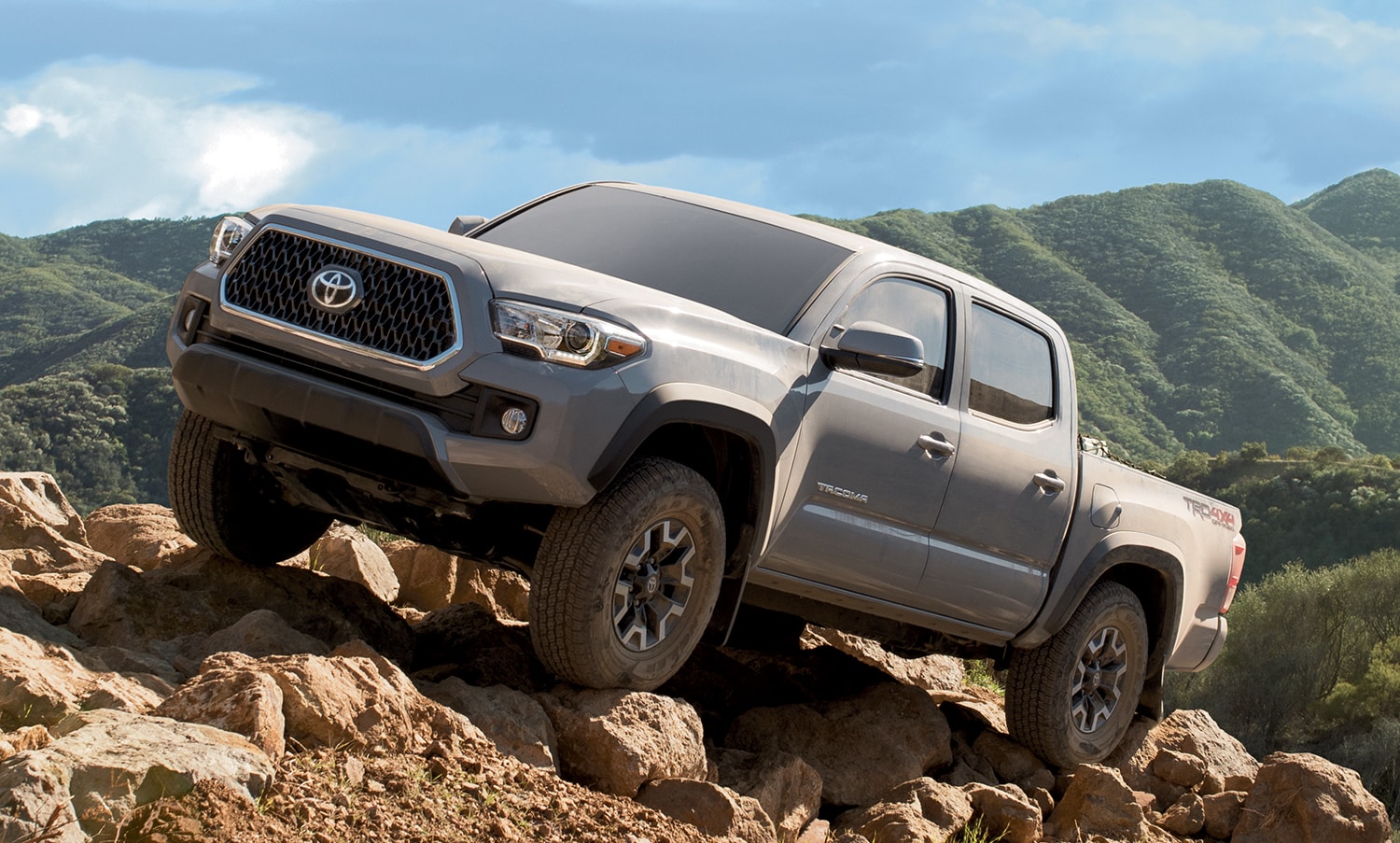 Standard in every 2019 Toyota Tacoma, the Toyota Safety Sense P suite of driver-assistive features includes a Pre-Collision System with Pedestrian Detection, Lane Departure Alert with Sway Warning System, Automatic High Beams, and Dynamic Radar Cruise Control. A Blind-Spot Monitor with Rear Cross-Traffic Alert, rear parking assist sonar, and Hill Start Assist Control are all available. Plenty of tools to make the roads of Portage safer places. Toyota vehicles also come standard with ToyotaCare, their no-cost maintenance plan that includes maintenance services and roadside assistance, in case of an accident.
Over on the Frontier, there's nowhere near as many safety features offered. In fact, all they provide is a rear sonar system and hill start assist control. No advanced systems here.
It's not as though the Frontier is more responsive either. Featuring larger front brake rotors, the Tacoma has better stopping power. From 70 miles per hour, the Frontier needs 199 feet to come to a full stop. The Tacoma does it in a car length less, at 185 feet, which can be the difference between a close call and a collision.
We drive on the roads of Johnstown and Greensburg, and park in the lots of Indiana. We want it to be a safer place, and so does Toyota.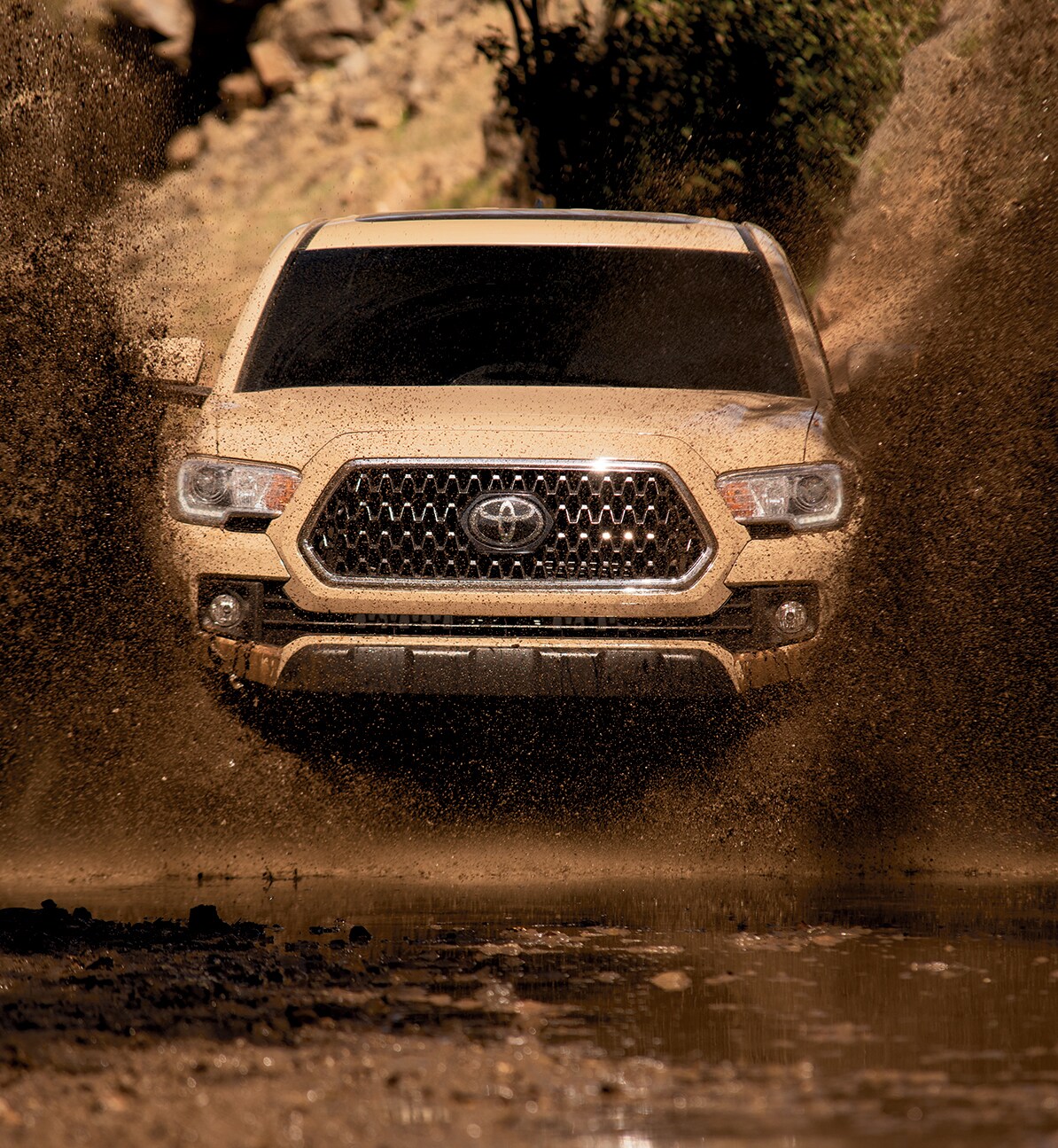 Is the Tacoma or the Frontier a more reliable vehicle?
Sooner or later, you might have to move on you your next truck. Maybe you want the latest tech, better capabilities, or you just want to move on to something else. Of course, you need your current truck to be reliable until then, and to have solid resale value.
While the 2019 Toyota Tacoma may have a heftier price tag than the 2019 Nissan Frontier, it's going to hold that value for a long time. In fact, since the award was introduced in 2010, the Tacoma has been named the midsize truck with the best resale value…Every year.
In 2017 and 2018, it wasn't just the best midsize truck - it was the best vehicle on the road, period. The Tacoma was projected to retain 61.1 percent of its value in five years. According to J.D. Power, it also boasts the highest predicted reliability of any vehicle in the segment, so it'll give you less headaches over the lifetime of ownership as well.
The Nissan Frontier? Dead last in the segment for resale value, and not doing much better as far as reliability goes.
Which truck is more convenient, the Toyota Tacoma or Nissan Frontier?
You're going to be spending plenty of time in your truck, better make sure it has the space and conveniences that make everything better for you and your passengers. It's pretty much a dead heat between the two trucks in terms of space, so it comes down to what they offer for conveniences.
The 2019 Nissan Frontier would like to take a moment to remind you what manual door locks and windows are. That's right - there is still a vehicle where manual windows and door locks are standard on every trim level. On the 2019 Toyota Tacoma, power accessories are standard, end of story.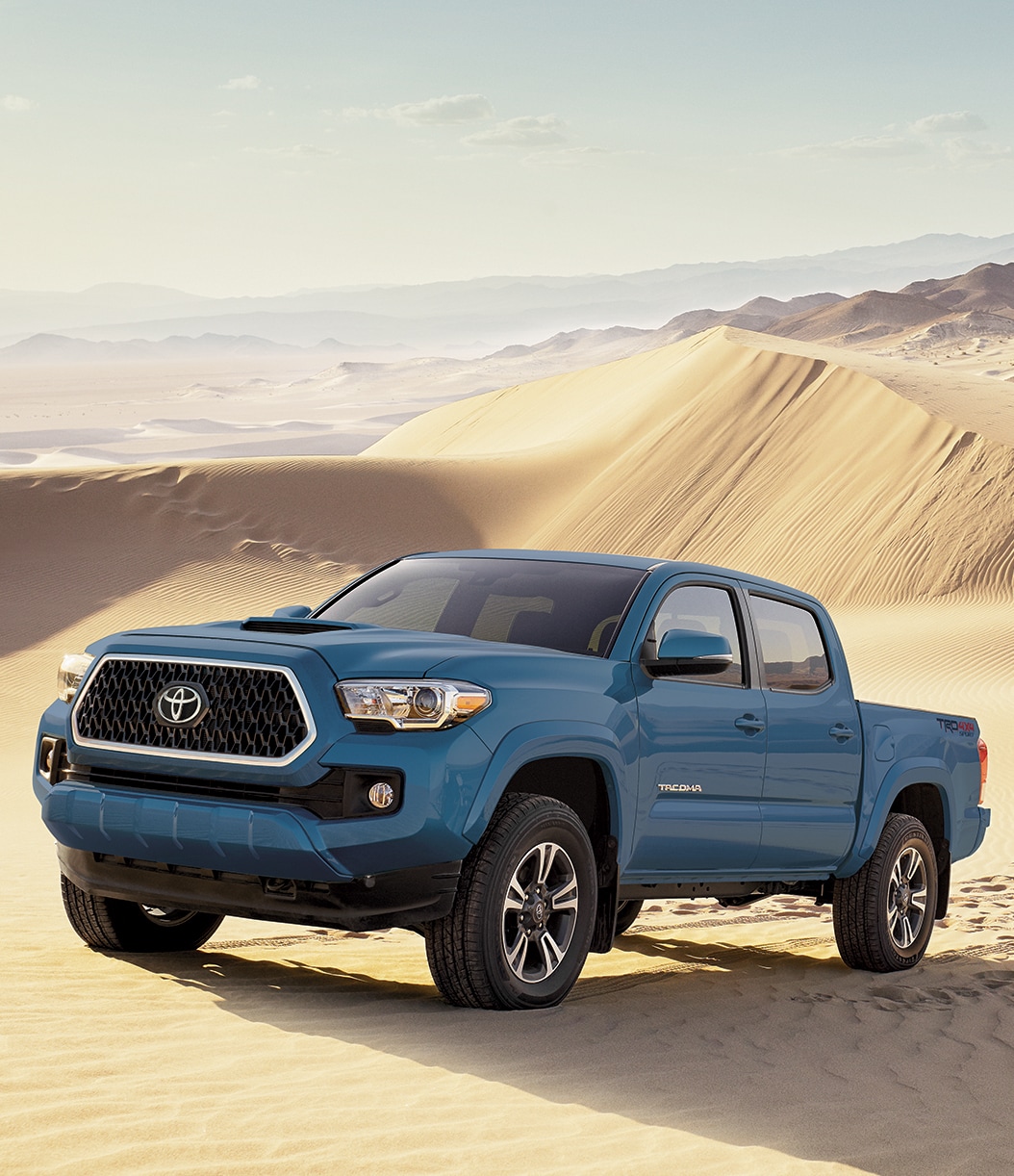 Especially during the cold months in DuBois, heated mirrors are great for keeping optimal visibility. Toyota knows this, which is why every Tacoma trim level comes with standard heated outside mirrors. On the Frontier, only the top trim level has them as standard, and they are optional on the off-road focused PRO-4X trim. They aren't available on any other trim though, so you'll be spending extra time scraping away with your ice remover.
It's pretty clear why the 2019 Toyota Tacoma, and all the Tacoma's that have come before, are so highly rated. They are more powerful, more fuel efficient, and provide more advanced safety features than you'll find in the 2019 Nissan Frontier and, for the most part, the rest of the midsize trucks on the road. On top of that, they are more reliable and hold their value incredibly well.
---
There's a reason our team here at Colonial Toyota of Indiana loves these trucks - they are the perfect vehicle for anyone in the Johnstown and Portage region who needs the flexibility of a pickup, but without the bulk of a full-sized unit. Stop in today and check out the different trims of the 2019 Toyota Tacoma, one of them is sure to fit your needs!